A DISCOUNT OF 50% HAS BEEN ADDED TO YOUR PRODUCT! (Discount running while stocks last)
Leave no dog behind!
No more guilty conscience when seeing those big puppy dog eyes while trying to leave your house and leaving your furry child behind!
You can now take your doggy with you where ever you go! Be it hiking, cycling, shopping etc. 
The simplest way to bond with your doggy by taking him/her on outings with you. Your furry friend no longer has to sit and wait alone at home for you to return.
Why you need this:
So you never have to leave your doggy behind
It's safe, comfortable, easy and fun 
Super convenient for everyday use
Do anything with your dog - bike rides, motorcycling, hiking, shopping
Show your doggy the world of adventure
Great for dogs who suffer from anxiety, depression or have any physical disabilities. 
Designed for safety and comfort 
Unique peep-hole window allows your dog to keep its head out to be able to see all the action and be able to communicate with you.
The Doggy Bag™ is made of high quality breathable mesh material to allow air movement and preventing your dog from overheating. 
Say goodbye to animal anxiety and depression 
Even dogs with disabilities can now join for the next adventure!
Ultra light weight with breathable material 
Comfortable shoulder straps
Thick bottom pad for your doggies comfort 
Adjustable straps
Two side pockets to hold doggy accessories, bottles, leashes etc.
Safety clip to clip to your dogs collar preventing them from getting out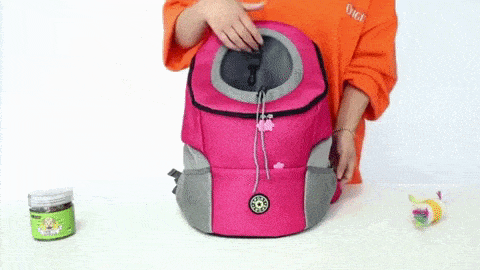 Various sizes to chose from
Perfect for small to larger animals
All sizes straps are adjustable
Designed for comfort 
FREQUENTLY ASKED:
🐶Will my dog fit in the Doggy Bag?
The Doggy Bag is suitable for small and medium dogs and cats. We offer 3 sizes. Please review the size explanation above on this page.
🐶What if my dog doesn't want to get in?
Doubtful. He/She will be able to look around and enjoy the journey. Your dog will be sold after the first use! 
🐶Will it work well for long trips?
The Doggy Bag is designed for comfort, it is different to generic shoulder bags which for longer trips put pressure on your neck and side pressure on your spine. Go ahead and enjoy your longer trips with this bag.
🐶How do I clean it?
You can wipe, vacuum or wash it. 
Please contact us if you need assistance. We have a dedicated customer support team available via Email. 
Orders are typically processed in 1-3 business days. Use the order tracking page for updates. Due to a high demand delivery takes anywhere from 3-15 business days. We do our best to get your products to you as fast as possible.
I absolutely love it! Highly recommended!
Chegou em 15 dias antecipando os 54 dias previstos.
It is light and does not weigh